About Us
Yong Xiang is a Chinese takeaway in London. Why don't you try our Vegetarian Duck or Malaysian Chow Mein?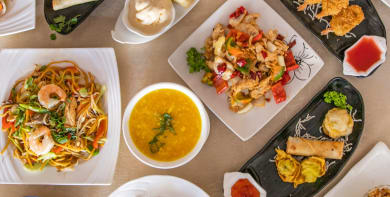 Reviews
467 reviews
william
"Best Chinese in south London"
28/07/2021
Robert
"Quality food , great taste and awesome costumer service"
26/07/2021
Stella
"Really good, thanks."
19/07/2021
Veronica
"Really testing food, very good quality and quantity. Delivery faster we expected. Amazing service"
06/07/2021
Menu
Crispy Aromatic Duck Quarter
Served with Pancakes, Hoi Sin Sauce, Sliced Cucumber & Spring Onions
£9.90
Crispy Aromatic Duck Half
Served with Pancakes, Hoi Sin Sauce, Sliced Cucumber & Spring Onions
£17.50
Crispy Aromatic Duck Whole
Served with Pancakes, Hoi Sin Sauce, Sliced Cucumber & Spring Onions
£33.00
Vegetarian Duck
Served with Pancakes, Hoi Sin Sauce, Sliced Cucumber & Spring Onions
£8.50
Gourmet Hors D'oeuvres Starter For (2)
Vegetarian Spring Rolls (4), Satay Chicken (2), Prawn Toast, Spare Ribs (2), Seaweed, Satay Sauce
£9.50
Butterfly Fried Prawns (8)
With Sweet & Sour Sauce
£6.70
King Prawn with Chilli, Salt & Pepper (8)
Spicy
£6.70
Deep Fried Squid with Chilli, Salt & Pepper
Spicy
£6.70
Deep Fried Tofu with Chilli, Salt & Pepper
Spicy
£5.70
Spare Ribs with Honey Sauce
£6.20
Spare Ribs with Spicy Sauce
Spicy
£6.20
Spare Ribs with Thai Sauce
Spicy
£6.20
Spare Ribs with in Peking Sauce
£6.20
Deep Fried Spare Ribs with Chilli, Salt & Pepper
Spicy
£6.20
BBQ Spare Ribs - With Choice of Sauce
£6.20
Chicken Wings with Spicy Sauce
Spicy
£5.90
Chicken Wings with Chilli, Salt & Pepper
Spicy
£5.90
Deep Fried Chicken with Chilli, Salt & Pepper
Spicy
£5.90
Crispy Shredded Chicken Salt & Pepper
Spicy
£5.90
Satay Chicken on Skewers (4)
With Peanut Sauce
£6.20
Deep Fried Dumplings (6) Chicken
£5.70
Deep Fried Dumplings (6) Pork
£5.70
Deep Fried Thai Dumplings (6) Chicken
Spicy
£5.90
Deep Fried Thai Dumplings (6) Pork
Spicy
£5.90
Deep Fried Vegetarian Dumplings (6)
£5.70
Vegetarian Mini Spring Rolls (8)
£3.50
Crab Claw with Sweet Chilli Sauce
£5.00
Crispy Won Ton (8)
With  Sweet & Sour Sauce
£3.70
Thai Tom Yum Kung Soup
Hot & Sour Prawn Soup
Spicy
£4.10
Thai Tom Yum Soup
Hot & Sour Chicken Soup
Spicy
£3.80
King Prawn with Coconut Milk Soup
£4.10
Chicken with Coconut Milk Soup
£3.80
Crab Meat & Sweet Corn Soup
£3.80
Chicken & Sweet Corn Soup
£3.80
Roast Duck Vegetarian Duck
£6.60
Sliced Duck with Mushrooms Regular
£6.50
Sliced Duck with Mushrooms Vegetarian Duck
£6.60
Sliced Duck with Mixed Vegetables Regular
£6.50
Sliced Duck with Mixed Vegetables Vegetarian Duck
£6.60
Sliced Duck with Cashew Nuts Regular
£6.50
Sliced Duck with Cashew Nuts Vegetarian Duck
£6.60
Sliced Duck with Chilli & Black Bean Sauce Regular
Spicy
£6.50
Sliced Duck with Chilli & Black Bean Sauce Vegetarian Duck
Spicy
£6.60
Sliced Duck with Cashew Nuts Thai Style Regular
Spicy
£6.50
Sliced Duck with Cashew Nuts Thai Style Vegetarian Duck
Spicy
£6.60
Sliced Duck with Peking Sauce Regular
£6.50
Sliced Duck with Peking Sauce Vegetarian Duck
£6.60
Sliced Duck with Plum Sauce Regular
£6.50
Sliced Duck with Plum Sauce Vegetarian Duck
£6.60
Sliced Duck with Ginger & Spring Onion Regular
£6.50
Sliced Duck with Ginger & Spring Onion Vegetarian Duck
£6.60
Sliced Duck with Spicy Sauce Regular
Spicy
£6.50
Sliced Duck with Spicy Sauce Vegetarian Duck
Spicy
£6.60
Sliced Duck with Broccoli in Black Bean Sauce Regular
Spicy
£6.50
Sliced Duck with Broccoli in Black Bean Sauce Vegetarian Duck
Spicy
£6.60
Sliced Duck Chop Suey Regular
£6.50
Sliced Duck Chop Suey Vegetarian Duck
£6.60
Chicken with Spicy Sauce Regular
Spicy
£5.80
Chicken with Spicy Sauce Vegetarian Chicken
Spicy
£6.10
Sliced Chicken with Cashew Nuts Thai Style Regular
Spicy
£5.80
Sliced Chicken with Cashew Nuts Thai Style Vegetarian Chicken
Spicy
£6.10
Crispy Shredded Chicken with Chilli & Carrots Regular
Spicy
£5.80
Crispy Shredded Chicken with Chilli & Carrots Vegetarian Chicken
Spicy
£6.10
Crispy Shredded Chicken with Shanghai Sauce Regular
£5.80
Crispy Shredded Chicken with Shanghai Sauce Vegetarian Chicken
£6.10
Chicken with Honey Sauce Regular
Spicy
£5.80
Chicken with Honey Sauce Vegetarian Chicken
Spicy
£6.10
Chicken with Seasonal Vegetables Regular
Selected with Ginger Sauce or Garlic Sauce
£5.80
Chicken with Seasonal Vegetables Vegetarian Chicken
Selected with Ginger Sauce or Garlic Sauce
£6.10
Chicken in Plum Sauce Regular
£5.80
Chicken in Plum Sauce Vegetarian Chicken
£6.10
Sliced Chicken with Spring Onions & Ginger Regular
£5.80
Sliced Chicken with Spring Onions & Ginger Vegetarian Chicken
£6.10
Sliced Chicken in Oyster Sauce Regular
Spicy
£5.80
Sliced Chicken in Oyster Sauce Vegetarian Chicken
Spicy
£6.10
Chicken with Malaysian Satay Sauce Regular
Spicy
£5.80
Chicken with Malaysian Satay Sauce Vegetarian Chicken
Spicy
£6.10
Chicken with Malaysian Chilli Sauce Regular
Spicy
£5.80
Chicken with Malaysian Chilli Sauce Vegetarian Chicken
Spicy
£6.10
Chicken with Hot Garlic Sauce Regular
Spicy
£5.80
Chicken with Hot Garlic Sauce Vegetarian Chicken
Spicy
£6.10
Sliced Chicken with Cashew Nuts Regular
£5.80
Sliced Chicken with Cashew Nuts Vegetarian Chicken
£6.10
Sliced Chicken with Cashew Nuts in Sauce Regular
Yellow bean sauce
£5.80
Sliced Chicken with Cashew Nuts in Sauce Vegetarian Chicken
Yellow bean sauce
£6.10
Chicken with Pineapple Regular
£5.80
Chicken with Pineapple Vegetarian Chicken
£6.10
Chicken with Chilli & Black Bean Sauce Regular
Spicy
£5.80
Chicken with Chilli & Black Bean Sauce Vegetarian Chicken
Spicy
£6.10
Chicken in Black Pepper Sauce Regular
Spicy
£5.80
Chicken in Black Pepper Sauce Vegetarian Chicken
Spicy
£6.10
Chicken with Broccoli in Black Bean Sauce Regular
£5.80
Chicken with Broccoli in Black Bean Sauce Vegetarian Chicken
£6.10
Lemon Chicken Vegetarian Chicken
£6.10
Kung Po Chicken Vegetarian Chicken
£6.10
Sliced Chicken with Mushrooms Regular
£5.80
Sliced Chicken with Mushrooms Vegetarian Chicken
£6.10
Chicken in Mandarin Sauce Regular
£5.80
Chicken in Mandarin Sauce Vegetarian Chicken
£6.10
Sliced Chicken with Mixed Vegetables Regular
£5.80
Sliced Chicken with Mixed Vegetables Vegetarian Chicken
£6.10
Sliced Chicken Chop Suey Regular
£5.80
Sliced Chicken Chop Suey Vegetarian Chicken
£6.10
Beef with Hot Chilli Sauce Regular
Spicy
£5.90
Beef with Hot Chilli Sauce Vegetarian Beef
Spicy
£6.10
Sliced Beef in Thai Sauce Regular
Spicy
£5.90
Sliced Beef in Thai Sauce Vegetarian Beef
Spicy
£6.10
Crispy Shredded Beef with Chilli & Carrots Regular
Spicy
£5.90
Crispy Shredded Beef with Chilli & Carrots Vegetarian Beef
Spicy
£6.10
Beef with Honey Sauce Regular
£5.90
Beef with Honey Sauce Vegetarian Beef
£6.10
Beef with Seasonal Vegetables with Sauce Regular
£5.90
Beef with Seasonal Vegetables with Sauce Vegetarian Beef
£6.10
Sliced Beef in Oyster Sauce Regular
£5.90
Sliced Beef in Oyster Sauce Vegetarian Beef
£6.10
Beef with Chilli & Black Bean Sauce Regular
Spicy
£5.90
Beef with Chilli & Black Bean Sauce Vegetarian Beef
Spicy
£6.10
Beef in Black Pepper Sauce Regular
Spicy
£5.90
Beef in Black Pepper Sauce Vegetarian Beef
Spicy
£6.10
Beef with Ginger & Spring Onion Regular
£5.90
Beef with Ginger & Spring Onion Vegetarian Beef
£6.10
Beef with Cashew Nuts Regular
£5.90
Beef with Cashew Nuts Vegetarian Beef
£6.10
Beef with Pineapple Regular
£5.90
Beef with Pineapple Vegetarian Beef
£6.10
Beef with Cashew Nuts in Yellow Bean Sauce Regular
£5.90
Beef with Cashew Nuts in Yellow Bean Sauce Vegetarian Beef
£6.10
Beef in Malaysian Satay Sauce Regular
Spicy
£5.90
Beef in Malaysian Satay Sauce Vegetarian Beef
Spicy
£6.10
Beef in Hot Garlic Sauce Regular
Spicy
£5.90
Beef in Hot Garlic Sauce Vegetarian Beef
Spicy
£6.10
Beef with Water Chestnuts in Yellow Bean Sauce Regular
£5.90
Beef with Water Chestnuts in Yellow Bean Sauce Vegetarian Beef
£6.10
Beef with Szechuan Style Regular
Spicy
£5.90
Beef with Szechuan Style Vegetarian Beef
Spicy
£6.10
Kung Po Beef Regular
Spicy
£5.90
Kung Po Beef Vegetarian Beef
Spicy
£6.10
Beef with Mushrooms Regular
£5.90
Beef with Mushrooms Vegetarian Beef
£6.10
Beef with Mixed Vegetables Regular
£5.90
Beef with Mixed Vegetables Vegetarian Beef
£6.10
Beef in Mandarin Sauce Regular
£5.90
Beef in Mandarin Sauce Vegetarian Beef
£6.10
Beef Chop Suey Vegetarian Beef
£6.10
Sweet & Sour King Prawn Balls (8)
£6.70
Sweet & Sour Mixed Balls (10)
Prawn & Chicken
£7.20
Sweet & Sour Chicken Balls (10)
£5.70
Sweet & Sour Vegetarian Chicken Balls (10)
£6.20
Sweet & Sour Chicken Thai Style
Spicy
£5.70
Sweet & Sour Mixed Vegetables
£5.70
Sweet & Sour Chicken Hong Kong Style
£5.70
Sweet & Sour Vegetarian Chicken
£5.90
Sweet & Sour Pork Hong Kong Style
£5.70
Sweet & Sour King Prawn Hong Kong Style
£6.50
Roast Pork in Black Bean Sauce Regular
Spicy
£5.80
Roast Pork in Black Bean Sauce Vegetarian Pork
Spicy
£6.10
Char Siu Regular
Roast pork
£5.80
Char Siu Vegetarian Pork
Roast pork
£6.10
Roast Pork with Mixed Vegetables Regular
£5.80
Roast Pork with Mixed Vegetables Vegetarian Pork
£6.10
Roast Pork Chop Suey Regular
£5.80
Roast Pork Chop Suey Vegetarian Pork
£6.10
Sliced Lamb in Black Bean Sauce Vegetarian Lamb
£6.10
Sliced Lamb in Black Bean Sauce Regular
£6.20
Sliced Lamb with Spicy Sauce Vegetarian Lamb
Spicy
£6.10
Sliced Lamb with Spicy Sauce Regular
Spicy
£6.20
Sliced Lamb with Hot Garlic Sauce Vegetarian Lamb
Spicy
£6.10
Sliced Lamb with Hot Garlic Sauce Regular
Spicy
£6.20
Sliced Malaysian Satay Lamb Vegetarian Lamb
Spicy
£6.10
Sliced Malaysian Satay Lamb Regular
Spicy
£6.20
Sliced Lamb with Mushrooms Vegetarian Lamb
£6.10
Sliced Lamb with Mushrooms Regular
£6.20
Sliced Lamb with Mixed Vegetables Vegetarian Lamb
£6.10
Sliced Lamb with Mixed Vegetables Regular
£6.20
Mixed Seafood with Seasonal Vegetables with Sauce Garlic Sauce
£6.80
Mixed Seafood with Seasonal Vegetables with Sauce Ginger Sauce
£6.80
King Prawn with Hot Chilli Sauce
Spicy
£6.50
King Prawn in Thai Style Sauce
Spicy
£6.50
King Prawn with Malaysian Satay Sauce
Spicy
£6.50
King Prawn with Seasonal Vegetables with Sauce Garlic Sauce
£6.60
King Prawn with Seasonal Vegetables with Sauce Ginger Sauce
£6.60
King Prawn with Honey Sauce
£6.50
King Prawn with Malaysian Chilli Sauce
Spicy
£6.50
King Prawn with Hot Garlic Sauce
Spicy
£6.50
King Prawn in Black Bean Sauce
Spicy
£6.50
King Prawn in Oyster Sauce
£6.50
King Prawn with Ginger & Spring Onion
£6.50
King Prawn with Cashew Nuts
£6.60
King Prawn with Cashew Nuts in Yellow Bean Sauce
£6.60
King Prawn with Broccoli in Black Bean Sauce
Spicy
£6.50
Szechuan King Prawns
Spicy
£6.50
King Prawns with Mushrooms
£6.50
King Prawns with Mixed Vegetables
£6.50
King Prawns with Pineapple
£6.50
King Prawns in Plum Sauce
£6.50
Squid with Black Bean Sauce
Spicy
£6.30
Squid with Ginger & Spring Onion
£6.30
Squid with Mixed Vegetables
£6.30
Pad Thai with Thai Noodles Beef
£6.30
Pad Thai with Thai Noodles Chicken
£6.30
Pad Thai with Thai Noodles Pork
£6.30
Pad Thai with Thai Noodles Mixed Vegetables
£6.40
Pad Thai with Thai Noodles Mushrooms
£6.40
Pad Thai with Thai Noodles Vegetarian Beef
£6.40
Pad Thai with Thai Noodles Vegetarian Chicken
£6.40
Pad Thai with Thai Noodles Duck
£6.50
Pad Thai with Thai Noodles King Prawn
£6.50
Pad Thai with Thai Noodles Lamb
£6.50
Pad Thai with Thai Noodles Squid
£6.50
Thai Curry King Prawn Green
Spicy
£6.70
Thai Curry King Prawn Red
Spicy
£6.70
Thai Curry Beef Green
Spicy
£6.20
Thai Curry Beef Red
Spicy
£6.20
Thai Curry Chicken Green
Spicy
£6.20
Thai Curry Chicken Red
Spicy
£6.20
Thai Curry Lamb Green
Spicy
£6.30
Thai Curry Lamb Red
Spicy
£6.30
Malaysian Curry King Prawns
£6.70
Malaysian Curry Tofu Beancurd
£6.30
Japanese House Special Curry
£7.70
Japanese King Prawns Curry
£7.70
Special Chow Mein Hong Kong Style
XL
BBQ Sauce
£7.20
House Special Noodles Fried Noodles (L)
£7.20
House Special Noodles Crispy Noodles (XL)
£7.50
House Special Noodles Soft Noodles (XL)
£7.50
Mixed Seafood Fried Noodles Crispy Noodles
Extra large
With gravy sauce
£7.70
Mixed Seafood Fried Noodles Soft Noodles
Extra large
With gravy sauce
£7.70
Mixed Seafood Chow Mein
Large
£7.20
Spare Ribs Fried Noodles in Chilli & Sauce Crispy Noodles
Black bean sauce
Extra large
Spicy
£6.70
Spare Ribs Fried Noodles in Chilli & Sauce Soft Noodles
Black bean sauce
Extra large
Spicy
£6.70
Noodles in Chilli & Black Bean Sauce Beef
Extra large
Spicy
£6.70
Noodles in Chilli & Black Bean Sauce Chicken
Extra large
Spicy
£6.70
Noodles in Sweet & Sour Sauce Chicken
Extra large
£6.70
Noodles in Sweet & Sour Sauce Pork
Extra large
£6.70
King Prawn Chow Mein
Large
£6.50
Shredded Duck Chow Mein
Large
£6.50
Roast Pork Chow Mein
Large
£5.70
Singapore Chow Mein
Large
Spicy
£6.00
Singapore Vermicelli
Large
Spicy
£6.20
Beansprouts Chow Mein
Large
£5.00
Mixed Vegetables Chow Mein
Large
£5.70
Plain Chow Mein
Large
Noodles only
£4.80
Vegetarian Beef Chow Mein
Large
£6.00
Vegetarian Chicken Chow Mein
Large
£6.00
Mushrooms Chow Mein
Large
£5.70
House Special Fried Hand Made Noodles
£7.20
King Prawn Fried Hand Made Noodles
£7.20
Fried Handmade Noodles in Black Bean Sauce Beef
Extra large
Spicy
£7.20
Fried Handmade Noodles in Black Bean Sauce Chicken
Extra large
Spicy
£7.20
Thai Style Hand Made Noodles
Large
Spicy
£6.70
Chicken Fried Hand Made Noodles
Large
£6.70
Malaysian Chow Mein Chicken
£6.50
Malaysian Chow Mein Mixed Vegetables
£6.50
Malaysian Chow Mein Vegetarian Beef
£6.50
Malaysian Chow Mein Vegetarian Chicken
£6.50
Malaysian Chow Mein House Special
£6.90
Malaysian Chow Mein King Prawn
£6.90
Fried Ho Fun with Beef Dry
Large
£6.70
Fried Ho Fun with Chicken Dry
Large
£6.70
Fried Ho Fun with Shredded Duck Dry
Large
£6.70
Fried Ho Fun Green Pepper & Black Bean Beef
Fried Ho Fun Green Pepper & Black Bean Gravy Sauce
Extra Large
£7.20
Fried Ho Fun Green Pepper & Black Bean Chicken
Fried Ho Fun Green Pepper & Black Bean Gravy Sauce
Extra Large
£7.20
Fried Ho Fun Green Pepper & Black Bean Pork
Fried Ho Fun Green Pepper & Black Bean Gravy Sauce
Extra Large
£7.20
Fried Ho Fun Green Pepper & Black Bean Prawn
Fried Ho Fun Green Pepper & Black Bean Gravy Sauce
Extra Large
£7.20
House Special Fried Ho Fun Dry
Large
£6.70
Fried Ho Fun with Vegetarian Beef Dry
Large
£6.70
Fried Ho Fun with Vegetarian Chicken Dry
Large
£6.70
Fried Ho Fun with Mixed Vegetables Dry
Large
£6.70
Fried Ho Fun with King Prawn Dry
Large
£7.20
Thai Special Fried Rice Small
Spicy
£5.60
Thai Special Fried Rice Large
Spicy
£6.00
Shredded Duck Fried Rice Small
£5.80
Shredded Duck Fried Rice Large
£6.20
Mixed Seafood Fried Rice Dry
Large
£6.90
Mixed Seafood Fried Rice Gravy Sauce
Large
£7.10
House Special Fried Rice Small
Dry
£5.80
House Special Fried Rice Large
Dry
£6.20
King Prawn Fried Rice Small
£5.80
King Prawn Fried Rice Large
£6.20
House Special Fried Rice with Gravy Sauce
Extra large
£6.80
Roast Pork Fried Rice Small
£5.10
Roast Pork Fried Rice Large
£5.60
Special Fried Rice Small
Yeung chow
£5.10
Special Fried Rice Large
Yeung chow
£5.60
Fried Rice Hong Kong Style
BBQ Sauce
Extra large
£6.60
Singapore Fried Rice Small
Spicy
£5.10
Singapore Fried Rice Large
Spicy
£5.60
Mixed Vegetable Fried Rice Small
£4.80
Mixed Vegetable Fried Rice Large
£5.20
Pineapple with Fried Rice Small
£4.30
Pineapple with Fried Rice Large
£4.70
Thai Coconut with Egg Fried Rice Small
£4.80
Thai Coconut with Egg Fried Rice Large
£5.10
Egg Fried Rice with Spring Onion Large
£4.10
Egg Fried Rice with Spring Onion Small
£4.10
Roasted Duck with Boiled Rice
Extra large
£6.70
Roasted Duck & Roasted Pork with Boiled Rice
Extra large
£6.70
Roast Duck with Fried Rice
Extra Large
£7.20
Roast Duck & Roast Pork with Fried Rice
Extra Large
£7.20
Roast Duck with Special Rice
Extra Large
£8.30
Roast Duck & Roast Pork with Special Rice
Extra Large
£8.30
Sweet & Sour with Boiled Rice Chicken
Extra large
£7.20
Sweet & Sour with Boiled Rice Pork
Extra large
£7.20
Spare Ribs in Chilli & Black Bean Sauce
With fried rice
Extra large
Spicy
£6.60
Chilli & Black Bean Sauce with Boiled Rice Beef
Extra large
Spicy
£6.70
Chilli & Black Bean Sauce with Boiled Rice Chicken
Extra large
Spicy
£6.70
Curry Chicken with Fried Rice
Extra large
£7.20
Curry Beef with Fried Rice
Extra large
£7.20
Curry King Prawn with Fried Rice
Extra large
£7.20
Sweet & Sour King Prawn with Fried Rice
Extra Large
£7.20
King Prawn in Chilli & Black Bean Sauce
King Prawn in Chilli & Black Bean Sauce with Fried Rice
Extra Large
£7.20
Malaysian Fried Rice Beef
£6.40
Malaysian Fried Rice Chicken
£6.40
Malaysian Fried Rice Pork
£6.40
Malaysian Fried Rice Duck
£6.70
Malaysian Fried Rice House Special
£6.70
Malaysian Fried Rice King Prawn
£6.70
Malaysian Fried Rice Dishes Mixed Vegetables
£6.40
Malaysian Fried Rice Dishes Vegetarian Beef
£6.40
Malaysian Fried Rice Dishes Vegetarian Chicken
£6.40
Thai Curry Vegetarian Chicken Green
£5.70
Thai Curry Vegetarian Chicken Red
£5.70
Thai Curry Vegetarian Beef Green
Spicy
£5.50
Thai Curry Vegetarian Beef Red
Spicy
£5.50
Thai Curry Beancurd Green
Spicy
£5.40
Thai Curry Beancurd Red
Spicy
£5.40
Beancurd in Black Bean Sauce
Spicy
£5.30
Vegetarian 'Ma Po' Beancurd
Spicy
£5.30
Stir Fried Seasonal Vegetable with Ginger Sauce
£5.60
Stir Fried Seasonal Vegetable with Garlic Sauce
£5.60
Stir Fried Mixed Vegetable
£4.90
Stir Fried Broccoli in Sauce Ginger Sauce
£5.10
Stir Fried Broccoli in Sauce Oyster Sauce
£5.10
Banana Fritter
With syrup
£3.70
Pineapple Fritter
With syrup
£3.70
Set Meal A1 For 1
Chicken with chilli & black bean sauce
Sweet & sour chicken balls (5)
Egg fried rice
£10.00
Set Meal B2 For 2
Beef with chilli & black bean sauce
Sweet & sour chicken balls (10)
Thai green curry chicken
Spring rolls (2)
Special fried rice (large)
Prawn crackers
£24.50
Set Meal C3 For 2
Spring rolls (2)
Sweet & sour chicken
Chicken curry
Beef with chilli & black bean sauce
Thai red curry prawn
Chicken fried rice (large)
Prawn crackers
£29.50
Set Meal D4 For 3
Quarter crispy aromatic duck
Deep fried chicken balls (12)
Spare ribs with salt & pepper
Crispy shredded beef with chilli & carrots
Chicken with chilli & black bean sauce
Thai green curry chicken
Special fried rice (2) (large)
Prawn crackers
£44.50
Set Meal E5 For 4
Half crispy aromatic duck
Deep fried squid with salt & pepper
Sweet & sour chicken Hong Kong style
Barbecued spare ribs (with sauce or dry)
Crispy shredded beef with chilli & carrots
Thai green curry king prawn
Beef with green pepper & black bean sauce
Special fried rice (2) (large)
Prawn crackers
£62.50
Vegetarian Set Meal For 1
Vegetarian Beef with Chilli & Black Bean Suace (or Vegetarian Chicken)
Mini Spring Rolls (8)
Steamed Rice (1) (Regular)
£10.00
Vegetarian Set Meal For 2
Vegetarian beef with chilli & black bean sauce
Vegetarian sweet & sour chicken
Thai green curry vegetarian chicken
Stir fried broccoli with ginger sauce
Steamed rice (large)
£25.50
Contact Us
Find Us
7 Saint Norbert Road, London, SE42EY
We deliver to
BR1, BR3, SE1, SE10, SE12, SE13, SE14, SE15, SE16, SE17, SE21, SE22, SE23, SE24, SE26, SE3, SE4, SE5, SE6, SE7, SE8