About Us
Yong Xiang is a Chinese takeaway in London. Why don't you try our Vegetarian Duck or Malaysian Chow Mein?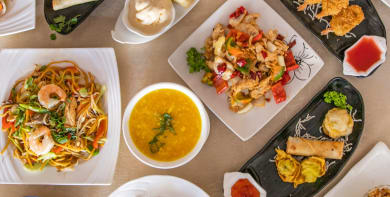 Reviews
645 reviews
Adam
"Excellent, one of the most delicious we've found. Dont miss the Mongolian lamb"
26/11/2020
Lou
"The food isn't greasy and is super tasty! Definitely our favourite for Chinese food."
21/11/2020
lauren
"Super fast delivery but very tasty! Would recommend and repeat!"
10/11/2020
David
"Absolutely delicious. Glad we over ordered because I can eat it again for lunch tomorrow 😎"
08/11/2020
Menu
House Special Fried Ho Fun (Dry)
Large
£6.30
Fried Ho Fun Green Pepper & Black Bean Gravy Sauce Beef
Extra large
Spicy
£6.30
Fried Ho Fun Green Pepper & Black Bean Gravy Sauce Chicken
Extra large
Spicy
£6.30
Fried Ho Fun Green Pepper & Black Bean Gravy Sauce Pork
Extra large
Spicy
£6.30
Fried Ho Fun Green Pepper & Black Bean Gravy Sauce Prawn
Extra large
Spicy
£6.30
Fried Ho Fun Shredded Duck (Dry)
Large
£6.30
Fried Ho Fun with Beef (Dry)
Large
£5.90
Fried Ho Fun with Chicken (Dry)
Large
£5.90
Banana Fritter
With syrup
£3.20
Pineapple Fritter
With syrup
£3.20
King Prawn with Coconut Milk Soup
£4.10
Crab Meat & Sweetcorn Soup
£3.80
Chicken with Coconut Milk Soup
£3.80
Thai Tom Yum Kung Soup
Hot & sour prawn soup
Spicy
£4.10
Thai Tom Yum Soup
Hot & sour chicken soup
Spicy
£3.80
Vegetarian Set Meal For 2
Vegetarian beef with chilli & black bean sauce
Vegetarian sweet & sour chicken
Thai green curry vegetarian chicken
Stir fried broccoli with ginger sauce
Steamed rice (large)
£18.90
Set Meal A1 For 1
Chicken with chilli & black bean sauce
Sweet & sour chicken balls (5)
Egg fried rice
£9.50
Set Meal B2 For 2
Beef with chilli & black bean sauce
Sweet & sour chicken balls (10)
Thai green curry chicken
Spring rolls (2)
Special fried rice (large)
Prawn crackers
£21.80
Set Meal C3 For 2
Spring rolls (2)
Sweet & sour chicken
Chicken curry
Beef with chilli & black bean sauce
Thai red curry prawn
Chicken fried rice (large)
Prawn crackers
£25.20
Set Meal D4 For 3
Quarter crispy aromatic duck
Deep fried chicken balls (12)
Spare ribs with salt & pepper
Crispy shredded beef with chilli & carrots
Chicken with chilli & black bean sauce
Thai green curry chicken
Special fried rice (2) (large)
Prawn crackers
£39.20
Set Meal E5 For 4
Half crispy aromatic duck
Deep fried squid with salt & pepper
Sweet & sour chicken Hong Kong style
Barbecued spare ribs (with sauce or dry)
Crispy shredded beef with chilli & carrots
Thai green curry king prawn
Beef with green pepper & black bean sauce
Special fried rice (2) (large)
Prawn crackers
£51.20
Set Meal E5 For 4
Half crispy aromatic duck
Deep fried squid with salt & pepper
Sweet & sour chicken Hong Kong style
Barbecued spare ribs (with sauce or dry)
Crispy shredded beef with chilli & carrots
Thai green curry king prawn
Beef with green pepper & black bean sauce
Special fried rice (2) (large)
Prawn crackers
Bottle of Wine
£51.20
Beancurd in Black Bean Sauce
Spicy
£5.20
Vegetarian Sweet & Sour Beef
£5.00
Vegetarian Sweet & Sour Chicken
£5.00
Vegetarian 'Ma Po' Beancurd
Spicy
£5.20
Vegetarian Beef with Chilli & Black Bean Sauce
Spicy
£5.00
Thai Curry Beancurd Green
Spicy
£5.30
Thai Curry Beancurd Red
Spicy
£5.30
Thai Curry Vegetarian Beef Green
Spicy
£5.50
Thai Curry Vegetarian Beef Red
Spicy
£5.50
Thai Curry Vegetarian Chicken Green
£5.50
Thai Curry Vegetarian Chicken Red
£5.50
Stir Fried Broccoli in Sauce Ginger Sauce
£5.00
Stir Fried Broccoli in Sauce Oyster Sauce
£5.00
Stir Fried Mixed Vegetable
£4.80
Stir Fried Seasonal Vegetable with Garlic Sauce
£5.50
Stir Fried Seasonal Vegetable with Ginger Sauce
£5.50
Sliced Duck Chop Suey Regular
£6.00
Sliced Duck Chop Suey Vegetarian Duck
£5.50
Sliced Duck Szechuan Style Regular
£6.00
Sliced Duck Szechuan Style Vegetarian Duck
£5.50
Sliced Duck with Broccoli in Black Bean Sauce Regular
Spicy
£6.10
Sliced Duck with Broccoli in Black Bean Sauce Vegetarian Duck
Spicy
£5.50
Sliced Duck with Cashew Nuts Regular
£6.10
Sliced Duck with Cashew Nuts Vegetarian Duck
£5.50
Sliced Duck with Cashew Nuts Thai Style Regular
Spicy
£6.10
Sliced Duck with Cashew Nuts Thai Style Vegetarian Duck
Spicy
£5.50
Sliced Duck with Chilli & Black Bean Sauce Regular
Spicy
£6.00
Sliced Duck with Chilli & Black Bean Sauce Vegetarian Duck
Spicy
£5.50
Sliced Duck with Ginger & Spring Onion Regular
£6.00
Sliced Duck with Ginger & Spring Onion Vegetarian Duck
£5.50
Sliced Duck with Mixed Vegetables Regular
£6.00
Sliced Duck with Mixed Vegetables Vegetarian Duck
£5.50
Sliced Duck with Mushrooms Regular
£6.00
Sliced Duck with Mushrooms Vegetarian Duck
£5.50
Sliced Duck with Peking Sauce Regular
£6.00
Sliced Duck with Peking Sauce Vegetarian Duck
£5.50
Sliced Duck with Plum Sauce Regular
£6.00
Sliced Duck with Plum Sauce Vegetarian Duck
£5.50
Sliced Duck with Spicy Sauce Regular
Spicy
£6.10
Sliced Duck with Spicy Sauce Vegetarian Duck
Spicy
£5.50
Roast Duck Vegetarian Duck
£5.50
Sliced Chicken Chop Suey Regular
£5.40
Sliced Chicken Chop Suey Vegetarian Chicken
£5.00
Sliced Chicken in Oyster Sauce Regular
Spicy
£5.50
Sliced Chicken in Oyster Sauce Vegetarian Chicken
Spicy
£5.00
Sliced Chicken with Cashew Nuts Regular
£5.50
Sliced Chicken with Cashew Nuts Vegetarian Chicken
£5.00
Sliced Chicken with Cashew Nuts in Sauce Regular
Yellow bean sauce
£5.50
Sliced Chicken with Cashew Nuts in Sauce Vegetarian Chicken
Yellow bean sauce
£5.00
Sliced Chicken with Cashew Nuts Thai Style Regular
Spicy
£5.50
Sliced Chicken with Cashew Nuts Thai Style Vegetarian Chicken
Spicy
£5.00
Sliced Chicken with Mixed Vegetables Regular
£5.40
Sliced Chicken with Mixed Vegetables Vegetarian Chicken
£5.00
Sliced Chicken with Mushrooms Regular
£5.40
Sliced Chicken with Mushrooms Vegetarian Chicken
£5.00
Sliced Chicken with Spring Onions & Ginger Regular
£5.50
Sliced Chicken with Spring Onions & Ginger Vegetarian Chicken
£5.00
Lemon Chicken Vegetarian Chicken
£5.00
Kung Po Chicken Vegetarian Chicken
£5.00
Chicken with Fresh Tomato Regular
£4.90
Chicken with Fresh Tomato Vegetarian Chicken
£5.00
Chicken with Honey Sauce Regular
Spicy
£5.50
Chicken with Honey Sauce Vegetarian Chicken
Spicy
£5.00
Chicken with Hot Garlic Sauce Regular
Spicy
£5.50
Chicken with Hot Garlic Sauce Vegetarian Chicken
Spicy
£5.00
Chicken with Malaysian Chilli Sauce Regular
Spicy
£5.00
Chicken with Malaysian Chilli Sauce Vegetarian Chicken
Spicy
£5.00
Chicken with Malaysian Satay Sauce Regular
Spicy
£5.50
Chicken with Malaysian Satay Sauce Vegetarian Chicken
Spicy
£5.00
Chicken with Pineapple Regular
£5.50
Chicken with Pineapple Vegetarian Chicken
£5.00
Chicken with Seasonal Vegetables in Sauce Regular
£6.00
Chicken with Seasonal Vegetables in Sauce Vegetarian Chicken
£5.00
Chicken with Spicy Sauce Regular
Spicy
£5.50
Chicken with Spicy Sauce Vegetarian Chicken
Spicy
£5.00
Grilled Chicken in Peking Style Regular
£5.10
Grilled Chicken in Peking Style Vegetarian Chicken
£5.00
Crispy Shredded Chicken with Chilli & Carrots Regular
Spicy
£5.50
Crispy Shredded Chicken with Chilli & Carrots Vegetarian Chicken
Spicy
£5.00
Crispy Shredded Chicken with Shanghai Sauce Regular
£5.50
Crispy Shredded Chicken with Shanghai Sauce Vegetarian Chicken
£5.00
Chicken with Broccoli in Black Bean Sauce Regular
£5.60
Chicken with Broccoli in Black Bean Sauce Vegetarian Chicken
£5.00
Chicken with Chilli in Black Bean Sauce Regular
Spicy
£5.50
Chicken with Chilli in Black Bean Sauce Vegetarian Chicken
Spicy
£5.00
Chicken in Black Pepper Sauce Regular
Spicy
£5.50
Chicken in Black Pepper Sauce Vegetarian Chicken
Spicy
£5.00
Chicken in Mandarin Sauce Regular
£5.40
Chicken in Mandarin Sauce Vegetarian Chicken
£5.00
Chicken in Plum Sauce Regular
£5.60
Chicken in Plum Sauce Vegetarian Chicken
£5.00
Malaysian Fried Rice Beef
£5.80
Malaysian Fried Rice Chicken
£5.80
Malaysian Fried Rice Duck
£6.10
Malaysian Fried Rice House Special
£6.10
Malaysian Fried Rice King Prawn
£6.10
Malaysian Fried Rice Pork
£5.80
Malaysian Chow Mein Chicken
£5.50
Malaysian Chow Mein House Special
£6.00
Malaysian Chow Mein King Prawn
£6.00
Crispy Shredded Beef with Chilli & Carrots Regular
Spicy
£6.00
Crispy Shredded Beef with Chilli & Carrots Vegetarian Beef
Spicy
£5.00
Beef Chop Suey Vegetarian Beef
£5.00
Beef in Black Bean Sauce Regular
Spicy
£5.50
Beef in Black Bean Sauce Vegetarian Beef
Spicy
£5.00
Beef in Black Pepper Sauce Regular
Spicy
£5.50
Beef in Black Pepper Sauce Vegetarian Beef
Spicy
£5.00
Beef in Hot Garlic Sauce Regular
Spicy
£5.50
Beef in Hot Garlic Sauce Vegetarian Beef
Spicy
£5.00
Beef in Malaysian Chilli Sauce Regular
Spicy
£5.10
Beef in Malaysian Chilli Sauce Vegetarian Beef
Spicy
£5.00
Beef in Malaysian Satay Sauce Regular
Spicy
£5.50
Beef in Malaysian Satay Sauce Vegetarian Beef
Spicy
£5.00
Beef with Cashew Nuts Regular
£5.80
Beef with Cashew Nuts Vegetarian Beef
£5.00
Beef with Cashew Nuts in Yellow Bean Sauce Regular
£5.80
Beef with Cashew Nuts in Yellow Bean Sauce Vegetarian Beef
£5.00
Beef with Fresh Tomato Regular
£5.00
Beef with Fresh Tomato Vegetarian Beef
£5.00
Beef with Honey Sauce Regular
£5.50
Beef with Honey Sauce Vegetarian Beef
£5.00
Beef with Hot Chilli Sauce Regular
Spicy
£5.50
Beef with Hot Chilli Sauce Vegetarian Beef
Spicy
£5.00
Beef with Mixed Vegetables Regular
£5.50
Beef with Mixed Vegetables Vegetarian Beef
£5.00
Beef with Mushrooms Regular
£5.50
Beef with Mushrooms Vegetarian Beef
£5.00
Beef with Pineapple Regular
£5.50
Beef with Pineapple Vegetarian Beef
£5.00
Beef with Seasonal Vegetables with Sauce Regular
£6.00
Beef with Seasonal Vegetables with Sauce Vegetarian Beef
£5.00
Beef with Spring Onion & Ginger Regular
£5.50
Beef with Spring Onion & Ginger Vegetarian Beef
£5.00
Beef with Szechuan Style Regular
Spicy
£5.50
Beef with Szechuan Style Vegetarian Beef
Spicy
£5.00
Beef with Water Chestnuts in Yellow Bean Sauce Regular
£5.50
Beef with Water Chestnuts in Yellow Bean Sauce Vegetarian Beef
£5.00
Kung Po Beef Regular
Spicy
£5.70
Kung Po Beef Vegetarian Beef
Spicy
£5.00
Mongolian Beef Vegetarian Beef
£5.00
Sliced Beef in Oyster Sauce Regular
£5.50
Sliced Beef in Oyster Sauce Vegetarian Beef
£5.00
Sliced Beef in Thai Sauce Regular
Spicy
£5.50
Sliced Beef in Thai Sauce Vegetarian Beef
Spicy
£5.00
Roast Pork Chop Suey Regular
£5.50
Roast Pork Chop Suey Vegetarian Pork
£5.00
Roast Pork in Black Bean Sauce Regular
Spicy
£5.50
Roast Pork in Black Bean Sauce Vegetarian Pork
Spicy
£5.00
Roast Pork with Mixed Vegetables Regular
£5.50
Roast Pork with Mixed Vegetables Vegetarian Pork
£5.00
Char Siu Regular
Roast pork
£5.50
Char Siu Vegetarian Pork
Roast pork
£5.00
Mongolian Lamb Vegetarian Lamb
£5.00
Sliced Lamb in Black Bean Sauce Regular
£5.90
Sliced Lamb in Black Bean Sauce Vegetarian Lamb
£5.00
Sliced Lamb with Hot Garlic Sauce Regular
Spicy
£5.90
Sliced Lamb with Hot Garlic Sauce Vegetarian Lamb
Spicy
£5.00
Sliced Lamb with Mixed Vegetables Regular
£5.90
Sliced Lamb with Mixed Vegetables Vegetarian Lamb
£5.00
Sliced Lamb with Mushrooms Regular
£5.90
Sliced Lamb with Mushrooms Vegetarian Lamb
£5.00
Sliced Lamb with Spicy Sauce Regular
Spicy
£5.90
Sliced Lamb with Spicy Sauce Vegetarian Lamb
Spicy
£5.00
Sliced Malaysian Satay Lamb Regular
Spicy
£5.90
Sliced Malaysian Satay Lamb Vegetarian Lamb
Spicy
£5.00
Spare Ribs Fried Noodles in Chilli & Sauce Crispy Noodles
Black bean sauce
Extra large
Spicy
£6.10
Spare Ribs Fried Noodles in Chilli & Sauce Soft Noodles
Black bean sauce
Extra large
Spicy
£6.10
Singapore Chow Mein
Large
Spicy
£5.60
Singapore Vermicelli
Large
Spicy
£5.80
Special Chow Mein Hong Kong Style
Large
BBQ sauce
£6.10
Thai Style Hand Made Noodles
Large
Spicy
£6.10
Mixed Vegetables Chow Mein
Large
£5.10
Mixed Seafood Fried Soft Noodles
Extra large
Dry
£6.50
Mixed Seafood Fried Noodles Crispy Noodles
Extra large
With gravy sauce
£7.00
Mixed Seafood Fried Noodles Soft Noodles
Extra large
With gravy sauce
£7.00
House Special Fried Soft Noodles
Large
Dry
£6.30
House Special Noodles Crispy Noodles
Extra large
With gravy sauce
£6.80
House Special Noodles Soft Noodles
Extra large
With gravy sauce
£6.80
King Prawn Chow Mein
Large
£6.10
King Prawn Fried Hand Made Noodles
Large
£6.30
Roast Pork Chow Mein
Large
£5.50
Noodles in Chilli & Black Bean Sauce Chicken
Extra large
Spicy
£6.10
Noodles in Chilli & Black Bean Sauce Beef
Extra large
Spicy
£6.10
Noodles in Sweet & Sour Sauce Beef
Extra large
Spicy
£5.90
Noodles in Sweet & Sour Sauce Chicken
Extra large
Spicy
£5.90
Shredded Duck Chow Mein
Large
£6.10
Plain Chow Mein
Large
Noodles only
£4.60
Chicken Fried Hand Made Noodles
Large
£5.60
House Special Fried Hand Made Noodles
Large
£6.30
Fried Handmade Noodles in Black Bean Sauce Beef
Extra large
Spicy
£6.50
Fried Handmade Noodles in Black Bean Sauce Chicken
Extra large
Spicy
£6.50
Beansprouts Chow Mein
Large
£4.80
Pad Thai with Noodles Duck
£6.80
Pad Thai with Noodles King Prawn
£6.80
Pad Thai with Noodles Lamb
£6.80
Pad Thai with Noodles Squid
£6.80
Pad Thai with Thai Noodles Beef
Spicy
£6.10
Pad Thai with Thai Noodles Chicken
Spicy
£6.10
Pad Thai with Thai Noodles Pork
Spicy
£6.10
Pineapple with Fried Rice Large
£4.60
Pineapple with Fried Rice Small
£4.20
Roast Pork Fried Rice Large
£5.30
Roast Pork Fried Rice Small
£4.80
Roasted Duck & Roasted Pork with Boiled Rice
Extra large
£6.10
Roasted Duck with Boiled Rice
Extra large
£6.10
Shredded Duck Fried Rice Large
£6.10
Shredded Duck Fried Rice Small
£5.70
King Prawn Fried Rice Large
£6.10
King Prawn Fried Rice Small
£5.70
Mixed Seafood Fried Rice Dry
Large
£6.10
Mixed Seafood Fried Rice Gravy Sauce
Large
£7.00
Mixed Vegetable Fried Rice Large
£5.10
Mixed Vegetable Fried Rice Small
£4.70
Chilli & Black Bean Sauce with Boiled Rice Beef
Extra large
Spicy
£5.80
Chilli & Black Bean Sauce with Boiled Rice Chicken
Extra large
Spicy
£5.80
House Special Fried Rice Large
Dry
£6.10
House Special Fried Rice Small
Dry
£5.70
House Special Fried Rice with Gravy Sauce
Extra large
£6.30
Fried Rice Hong Kong Style
BBQ Sauce
Extra large
£6.10
Egg Fried Rice with Spring Onion Large
£3.60
Egg Fried Rice with Spring Onion Small
£3.30
Curry Beef with Egg Fried Rice
Extra large
£5.90
Curry King Prawn with Egg Fried Rice
Extra large
£6.30
Curry Chicken with Egg Fried Rice
Extra large
£6.10
Thai Special Fried Rice Large
Spicy
£5.90
Thai Special Fried Rice Small
Spicy
£5.50
Sweet & Sour with Boiled Rice Chicken
Extra large
£5.90
Sweet & Sour with Boiled Rice Pork
Extra large
£5.90
Thai Coconut with Egg Fried Rice Large
£4.80
Thai Coconut with Egg Fried Rice Small
£4.50
Special Fried Rice Large
Yeung chow
£5.50
Special Fried Rice Small
Yeung chow
£5.00
Singapore Fried Rice Large
Spicy
£5.50
Singapore Fried Rice Small
Spicy
£5.00
Spare Ribs in Chilli & Black Bean Sauce
With fried rice
Extra large
Spicy
£6.10
Sweet & Sour Chicken Balls (10)
£6.00
Sweet & Sour Chicken Hong Kong Style
£5.50
Sweet & Sour Chicken Thai Style
Spicy
£5.50
Sweet & Sour King Prawn Balls (8)
£6.10
Sweet & Sour King Prawn Hong Kong Style
£6.10
Sweet & Sour Mixed Balls (10)
Prawn & chicken
£6.50
Sweet & Sour Pork Hong Kong Style
£5.50
Sweet & Sour Vegetarian Chicken
£6.00
Sweet & Sour Vegetarian Chicken Balls (10)
£5.50
Squid with Chilli & Black Bean Sauce
Spicy
£5.90
Squid with Mixed Vegetables
£5.90
Squid with Spring Onion & Ginger
£5.90
King Prawn with Pineapple
£6.10
Mixed Seafood with Seasonal Vegetables with Sauce Garlic Sauce
£6.70
Mixed Seafood with Seasonal Vegetables with Sauce Ginger Sauce
£6.70
King Prawn in Black Bean Sauce
Spicy
£6.10
King Prawn in Oyster Sauce
£6.10
King Prawn in Thai Style Sauce
Spicy
£6.10
King Prawn with Broccoli in Chilli & Sauce
Black bean sauce
Spicy
£6.50
King Prawn with Cashew Nuts
£6.20
King Prawn with Cashew Nuts in Yellow Bean Sauce
£6.20
King Prawn with Honey Sauce
£6.10
King Prawn with Hot Chilli Sauce
Spicy
£6.10
King Prawn with Hot Garlic Sauce
Spicy
£6.10
King Prawn with Malaysian Chilli Sauce
Spicy
£5.60
King Prawn with Malaysian Satay Sauce
Spicy
£6.50
King Prawn with Mixed Vegetables
£6.10
King Prawn with Mushrooms
£6.10
King Prawn with Seasonal Vegetables with Sauce Garlic Sauce
£6.20
King Prawn with Seasonal Vegetables with Sauce Ginger Sauce
£6.20
King Prawn with Spring Onions & Ginger
£6.10
Mussel with Chilli & Black Bean Sauce
Spicy
£5.40
Mussel with Spring Onions & Ginger
£5.10
Mussels with Spring Onions & Ginger
£5.40
Satay Chicken on Skewers (4)
With peanut sauce
£5.70
King Prawn with Chilli, Salt & Pepper (8)
Spicy
£6.10
Butterfly Fried Prawns
8 pieces. With sweet & sour sauce
£6.10
BBQ Spare Ribs - With Choice of Sauce
£6.40
Crispy Aromatic Duck Half
Served with pancakes, Hoisin sauce, sliced cucumber & spring onions
£17.00
Crispy Aromatic Duck Quarter
Served with pancakes, Hoisin sauce, sliced cucumber & spring onions
£9.50
Crispy Aromatic Duck Whole
Served with pancakes, Hoisin sauce, sliced cucumber & spring onions
£31.00
Crispy Shredded Chicken Salt & Pepper
Spicy
£5.60
Crab Claw with Sweet Chilli Sauce
£5.00
Chicken Wings with Chilli, Salt & Pepper
Spicy
£5.40
Chicken Wings with Spicy Sauce
Spicy
£5.40
Gourmet Hors D'oeuvres Starter For (2)
Vegetarian spring rolls (4), satay chicken (2), prawn toast, spare ribs (2), seaweed & satay sauce
£8.90
Deep Fried Chicken with Chilli, Salt & Pepper
Spicy
£5.10
Deep Fried Dumplings (6) Chicken
£5.20
Deep Fried Dumplings (6) Pork
£5.20
Deep Fried Spare Ribs with Chilli, Salt & Pepper
Spicy
£5.90
Deep Fried Squid with Chilli, Salt & Pepper
Spicy
£6.10
Deep Fried Thai Dumplings (6) Pork
Spicy
£5.40
Deep Fried Thai Dumplings (6) Chicken
Spicy
£5.40
Deep Fried Tofu with Chilli, Salt & Pepper
Spicy
£5.20
Deep Fried Vegetarian Dumplings (6)
£4.70
Vegetarian Duck
Served with pancakes, Hoisin sauce, sliced cucumber & spring onions
£7.30
Vegetarian Mini Spring Rolls (8)
£3.50
Spare Ribs with Honey Sauce
£5.90
Spare Ribs with Peking Sauce
£5.90
Spare Ribs with Spicy Sauce
Spicy
£5.90
Spare Ribs with Thai Sauce
Spicy
£5.90
Thai Curry Beef Green
Spicy
£5.80
Thai Curry Beef Red
Spicy
£5.80
Thai Curry Chicken Green
Spicy
£5.80
Thai Curry Chicken Red
Spicy
£5.80
Thai Curry King Prawn Green
Spicy
£6.10
Thai Curry King Prawn Red
Spicy
£6.10
Thai Curry Lamb Green
Spicy
£6.10
Thai Curry Lamb Red
Spicy
£6.10
House Special Curry
Spicy
£6.10
Curry Mixed Vegetable
Spicy
£5.10
Japanese Curry Beef
Spicy
£6.00
Japanese Curry Chicken
Spicy
£6.00
Japanese Curry House Special
Spicy
£6.50
Japanese Curry King Prawns
Spicy
£6.50
Japanese Curry Lamb
Spicy
£6.50
Japanese Curry Pork
Spicy
£6.00
Japanese Curry Tofu
Beancurd
Spicy
£6.00
Contact Us
Find Us
7 Saint Norbert Road, London, SE42EY
We deliver to
SE1, SE10, SE12, SE13, SE14, SE15, SE16, SE17, SE21, SE22, SE23, SE24, SE26, SE3, SE4, SE5, SE6, SE7, SE8